HOME >
Professional service
Professional service / Taichung Tank Yard services
Services
Business items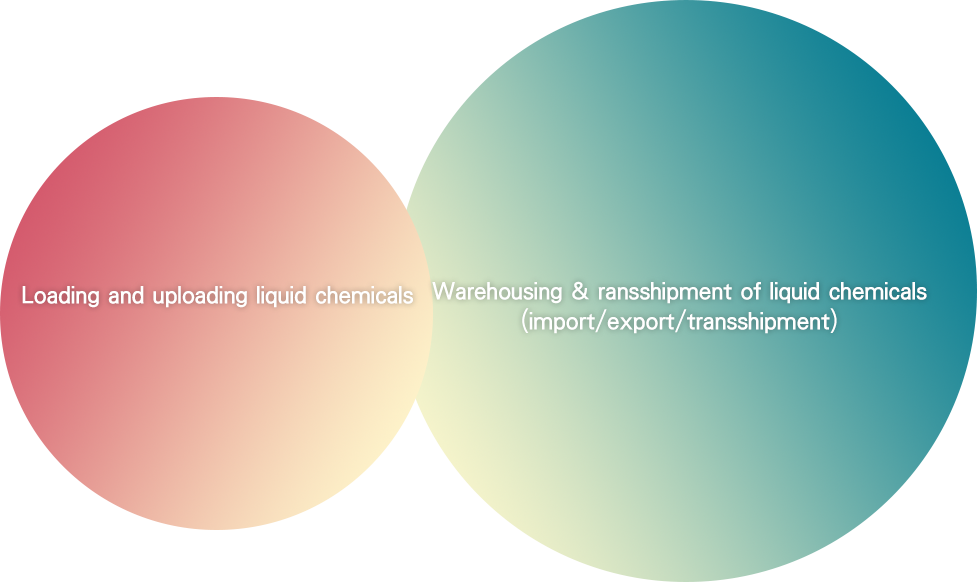 Services provided
Stock storage management
Provision of storage for hazardous objects and toxic chemicals
Provision of 24-hour thermal facility for chemicals
Provision of storage tanks for customers of different needs (e.g. bonds, bonded and extended vacant land, joint-lock tank and self-use tank)
Practical inventory checking before loading and after off-loading in cooperation with customer on monthly basis and for each shipment
Loading/Off-loading service
Provision of chemical bucket filling, loading, off-loading and ISO-TANK loading/off-loading service.
Available for good admission and delivery on 24-hour basis for customer convenience
Monitoring of shipment off-loading time and arrangement of relevant loading/off-loading matters
Relevant documentation for goods storage
Provision of statistics on change in goods admission and delivery in batches, and daily report on change in deliveries
Issuance of delivery orders per load
Provision of administration service on 6-sheet toxic chemical-related document
Control of withdrawal duty on imported goods
Loading/ Off-loading service
Loading/Off-loading service
Provision of temporary tubes and steel pipes for off-loading
Provision of tank access piping, exclusive pump and filling platform
Provision of import and transit services covering container loading/off-loading, bucket filling and sorting.
Various operation checklists and procedures for storage tanks are defined according to the properties of the chemical materials, so storage safety can be ensured.
Storage service
Provision of automatic N2 filling system
Provision of chemical thermal service
Provision of 24-hour surveillance system to monitor status of tank area at all times
Provision of thorough storage for toxic chemicals
Administration service
Time control on off-loading shipment
Arrangement of relevant purchase/ shipment matters
Practical inventory checking before loading and after off-loading in cooperation with customer on monthly basis and for each shipment
Provision of daily logistic report for convenience of the customer to control daily status of goods.
Provision of application and consultation on 6-sheet toxic chemical-related document
Provision of exclusive toxic chemicals personnel to assist with registration and administration
Participation in regional joint-rescue related to toxic chemicals and establishment of expert on chemical disaster and emergencies to timely assist with hazard prevention and emergency response.
Control of goods withdrawal and duty on imported goods
Logistic data management
customer logistic data report
Based on customers' demand, feedback daily/weekly/monthly inventory data sheet.
Customs record of cargo tax
Cargo in & out statistic data sheet (per lot)
Daily shipping statistic report
Delivery order summary
Toxic chemical-related document summary
Daily cargo re-arranged report
Cargo discharging record
Cargo safety storage checklist
Effective control、reduce the risk of pollution and loss ratio of cargo storage
The confidential data management
We had established the encryption mechanism of cargo in & out information which is under strict supervised by dedicated personnel .
Non business-related staff member is forbidden to involve or leak concerned information. In order to convince customer to our service ,the offender will be dismissed.